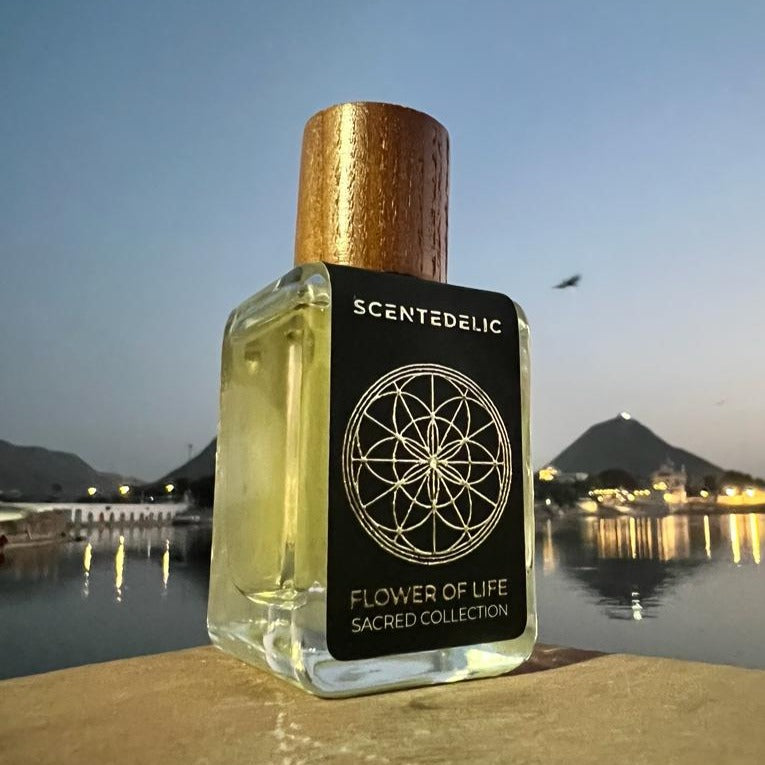 FLOWER OF LIFE PURE PARFUM SACRED COLLECTION
SKU: Ships in 3-5 Days
---
The divine, enlightening flower of life is the genesis pattern for creation of life and universe. The two entities are correlated and dance in harmony.The geometry of this sacred pattern is expressed through the means of a life entrapped in nature as flowers in the universe. Get a first-hand experience of the interconnectedness and balance of the miraculous creation of the Flower of Life.

Scentedelic's new Sacred Collection launches Flower of Life. The rings focus in the centre harnessing the energy of a bitter-sweet citrusy scent honoured by the floral tones of Neroli. The zeal is radiated to a greater extent by the calming Lavender and soapy Coriander as the beginning of the experience of life. Both of these notes feel green and woody on the wearer's skin and the Coriander also adds a citrusy note synchronised with Neroli.

With the creation of this scent expanding further in the existence of the universe, Flower of Life encompasses you with a sensual smell of the Moroccan Jasmine and the subtle, sweet Rose. The minty edge of the floral Lavender is perfectly synced with the Rosemary pertaining to the same family of fragrances. The foundation of the spiritual journey of The Flower of Life is set on the sweet and rosy yet woody and powdery base notes. Live through the depth and fullness of existential creation assisted by Amber and Musk.The curved patterns of the flower embrace the feminine creativity of the enchanting Floral Fougere. The masculine wildness of the scent is blended with the feminine floral tones of Geranium and Rosewood.

Top Notes - Neroli♀ Lavender♂ Coriander♂

Mid Notes - Moroccan Jasmine♀ Moroccan Rose♀ Rosemary♀

Base Notes - Geranium♂ Musk♂ Amber♂ Rosewood♀

Where '♀' signifies a natural molecule and  ' ♂' stands for synthetic molecule.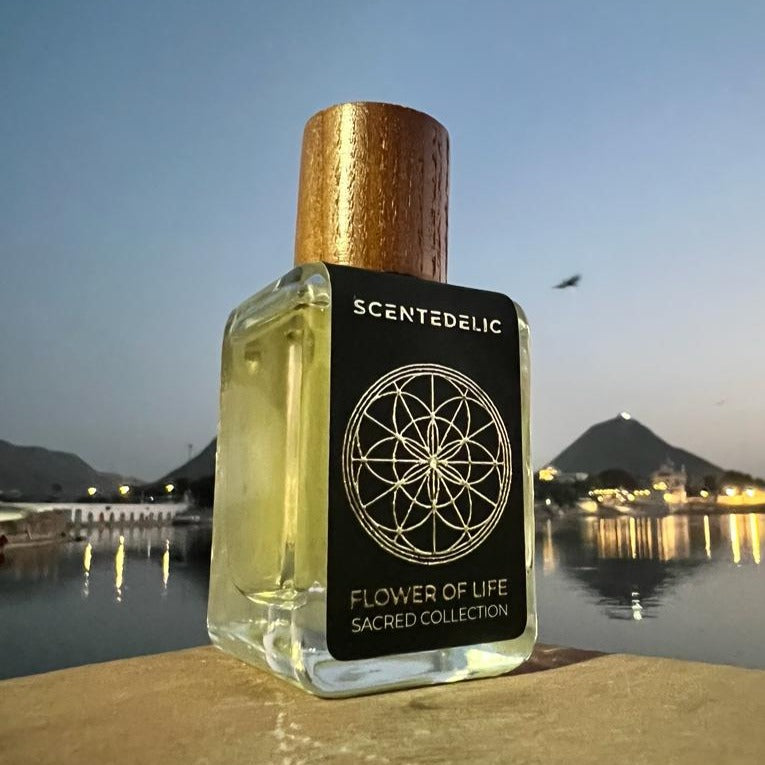 This product is rated 5.0 of 5.0 stars.
It has received 1 review.